Research Notes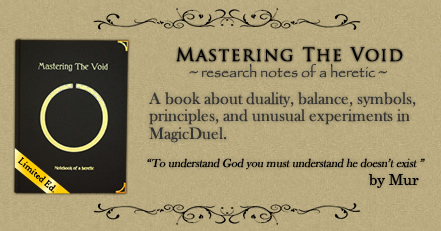 To predict coincidences ... this is one thing i learned out of ruling MD for all these years. Ideas have shapes and once you understand such a shape you will know where it will lead you. Controlling ideas, thoughts, is like painting. You have one main goal, but that goal is oftenly undefined, it is just there and guides you to the masterpiece not yet painted on the empty canvas. Naming this work was probably the secondary hardest thing to do after starting to write it. Why mastering the void? Well, regardless how pompous or anarchist it might shound, i reached a crucial conclusion and between other things, that conclusion tells me that the void is superior to the full. Because this book is not only about obervations, but also about actual applications and experiments i conducted, "Mastering" this "void" was the right way to call it. See it more as a ZEN title.
Most of us have ideas of what is and what could be, about religion, about the universe, or about how things work and about how they don't work. If you don't have such thoughts, if you are not thinking "WHY?", then sadly this book is not for you. I did not waste my time to write somethign to convince anybody about my theories, if you want to learn something out of what i wrote you will have to do it on your own. This is not a magic tutorial, it will not teach you miraculous things, but it will change you forver IF you understand its message that I so carefully placed between its lines but also in plain sight.
The things i wrote in this little book are not just interesting ideas. They are theories that as you read you will realise they connect and start to explain each other.
If you believe what I did developing MagicDuel was amazing, then think that I consider this work to be a much more valuable personal achievement of my life so far.
You can find it on amazon, lulu, and probably by now also on other book stores. Why i placed this page on md is not to advertise those shops where you can get it anyway, but to present you one Limited Edition that is printed only here, and that is realy a very high quality edition, worthy of the content you will find inside.
The limited edition version is A5 format (european) with very thick (hardcover) black covers, slightly rubbered feel (amazing on touch), with metal corners and gold finish.
Price for one such book is (for now) 45$ plus 20$ handling&shipping worldwide,.... or consider it 65$ with free shipping :)
I require payment in advance, by Western Union only, and I will send you the tax you pay to WU on the transfer as in-game credits to cover your extra cost for the transaction. (should be like 7$ tax or so)
You can contact me on the forum, or by email at manu [a t} magicduel |do.t| com . Please specify in the email or PM title the word "book".
The book is to recent to have many reviews. Those that ordered it are still reading it and will share their opinion soon. If you ordered it and read it, please share your opinion about , be it good or bad. I don't mind bad reviews even if of course i love good ones.
Here are some of the current reviews i received so far:
If you have ever heard the phrase "It's all been done" and felt that sinking feeling, perhaps you should read this thought experiment. If you have never delved into philosophy or the occult this could be said to be the orange squash of a certain aspect of it. In this sense, it is a little like a J.J.Abrams film. Many of the concepts are known, and yet this takes nothing away from its impact due to how it has been pieced together.

It is dificult to describe quite what you will find within the book specifically. The bare bones of it's contents find lessons on symbology, the art of persuasion and finally, within its pages you will be given some of the tools to the art of manipulation and understanding - aka magik.

On a personal level, what I found most intriguing was that the basic premise that runs throughout the book is not one I agree with, and yet I could happily agree with much of what was in it...which strangely, the book has an answer for. The writing style is enjoyable and the chapters short enough to ensure you have lots of unanswered questions to think about in your spare time - and that is the part that makes it most enjoyable, it won't give you the answers you seek, but it will give you the compass to go looking for them.
First Thanks to the arthur for this book I found it an enjoyable read. This book will make you see things in a diffrent view. This book echos many of my own ideas and views. The infoemation within is... well it is vast yet little something that keep you reading and asking for more. This was well worth my time Thanks Yrth
Good essences are kept in small bottles and good ideas are kept in a small book. The book is built in such a way that you'll want to read more and more and even if it has around 150 pages you'll discover that you reached the end in no time (this is what happened to me so that's why I said it is a "small" book).
The amount of information is overwhelming.You'll find math, astronomy, astrology, psychology and other disciplines in there but all presented in an accessible form. You don't need to have a background to understand. All you need is to read it from beginning till end and you'll see the big picture. The sentences are simple, the images are clear.
What I found mostly shocking about it is that I knew some of the ideas/facts that are presented (and I bet that most of the people know them also) but I never made the connections. The book gives you all the pieces of the puzzle and guides you on how to form the big picture.
It is a unique book. It is a great reading. It is a must have.
Read it and enjoy it. I did.
-------------------
The Ravings of a mad man. A mix of the freedom of thought in an imaginary world mixed with the daily life of reality. Just purchased the book and look forward to reading it in great detail. With being a member of the community in which he created, am sure to see the same chaotic nature in this book. The Preview had me biting my nails to get a copy as quickly as possible, and am sure anyone who buys it will find it an enthralling read. Phantasm
-------------------
Yours is next