"Desire that the world knows that One who saw everything, that One that knew all the seas, that know all things, that One who scrutinized together all the mysteries. Dhyone, the Universal Wizard who saw all the things, knew the secret things and related the occult, he transmitted a knowledge previous to the Deluge"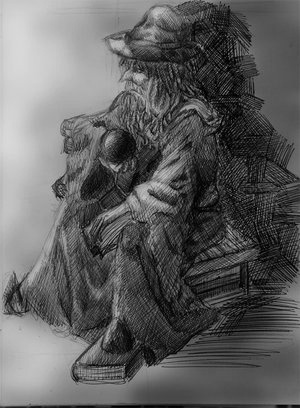 Description: You are faced with a creature that wich inspires an air of strangeness, but at the same time a enigmatic confidence. His features seems common, certainly he is a young man of some distant land. He's dressed with a large dark blue almost black hooded cloak. Over the head sits a wide brimmed pointy hat, which almost cover his entire body. Under the cloak, you can see that he wears a short black vest and shirt of the same color. Dark blue breeches held up with a leather belt adorned with a gold buckle that is inscribed with runes. He carries a large backpack that looks very full. On his feet he wears suede boots almost to his knees.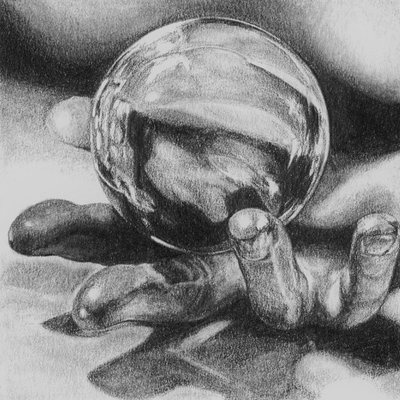 (Image may be subject to copyright. Read the note at the end of this page.)
.
The Art of Prophecy: An ancient art based on the vision of the possible lines of time and patterns of events that consists the reality of future. To predict the future is necessary a concentration of energy in an object that reflects the light, the most common objets to make this is water basins, mirrors or crystal balls. I use a very rare and fragile crystal called the Crystal of Truth. This type of crystal is only found in my homeland. Most people who have the gift of prophecy have birthmarks and moles on their body. In addition, they have prophetic dreams every night.
I had a great prophetic dream that I wish to share with you:
"One night I saw the future of the world, this world which you call home. In this dream, the world was still static, nothing could move, the color had disappeared, everything was a mix of black and white. There was no sound, it was a terrifying silence. There were only shadows. Look and listen! This is the future of your world. If we do nothing to stop it, or wait too long to do something...it may be too late."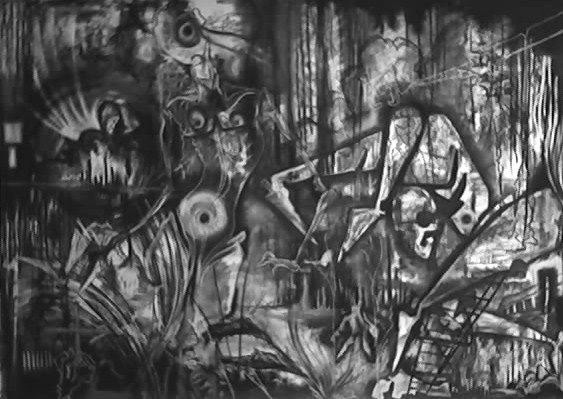 (Image may be subject to copyright. Read the note at the end of this page.)
.
This dream was repeated many times. I believe it is a warning, a sign of the Forces of Creation of this world. In my researches, I noted that in recent times there had been a great imbalance in primary forces, which will have disastrous results if it continues to be. This imbalance is mainly caused by conflicting energies. When people generate these energies, it directly affects these primary forces.

All types of conflicts can generate these conflicting forces, such as hatred, anger, fury and with it struggles such as wars and violence. I've also seen one realm which will try to conquer over all the other homelands.

In my travels to the Necrovion caves I found a evil creature. A shadow with a top hat and a monocle which showed me and told me many things. I know that these shadows are deceptive , but my prophetic gifts do not fail me.

The creature told me that shadow forces will invade the other lands, and that all they want is to keep the balance. He told me that if they can master all the lands, there will be a balance in the Deep and invited me to join him. I refused promptly and went on my way.

Some days later, I had the chance to see the future of a person from Necrovion. I was very surprised. In this prediction, I saw all people of Necrovion united in one monstrous shadow entity in Deathmarrow and they will send armys of shadows to invade all other lands ... certainly menacing ... Listen to me! Because later, it may be too late ...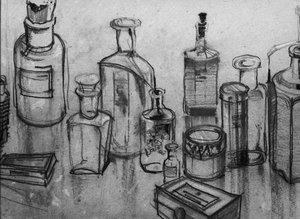 (Image may be subject to copyright. Read the note at the end of this page.)
.
Alchemy
: The science of the manufacture of magic items through various processes such as fermentation, distillation, maceration and ceration. This process can only function if all properties of matter are being used properly and careful handling of the energy inherent in each material.
Some examples of items created from the simple alchemy are potions, solutions and filters. Additionaly, if you know the correct control of energy and follow the recipe correctly, it is also possible to make items more powerful, such as rods, magic swords and mistic wands.
My research in this area is aimed at the development of potions like rejuvenation, slowing time, healing, damage or that can harm the human body in battles.
I have achieved good results in these studies, after all, how old you think I am? Hmm .. Old! To be exact, over 700 years ... and it could only happen with the simple manipulation of potions.
My goal here, is to find the Elixir of Long Life and the Shard of Eternity. Lately, many people have requested my services. I am certainly happy to help you in anything, but I can not allow anyone without proper knowledge to manipulate the materials. I t would be very dangerous!
If you need my services, Please let me know, and I will do my best help you. I do not certify that I always have the materials for the items you want. However, I always have the tools to operate in alchemic operations. If I do not have the materials I will ask you to find them so I can make the item at no charge.
This is a short list of substances most needed for people and the materials I commonly need to produce them:
Aqua Fortis
: Bottle of an acidic substance. Used to melt metals and stones, and also causes damage. Items needed: vitrol oil and saltpeter.
Aqua Vitae
: Remedy for recovery from diseases and injuries that affect the spirit, also known as Spirit of Wine. Item needed: A bottle of wine.
Blue Vitrol
: Blue powder used in the preparation of other substances. Item needed: Medium piece of copper
Fool's Gold
: Good to frolic with and to fool the fools. Item needed: Small stone of Pyrite.
Fulminating Silver
: Very explosive substance. Used to cause major damage, toppling walls and make holes in the ground. Item needed: Pure Silver.
Green Vitrol
: Green powder used in the preparation of other substances. Item needed: Iron.
Gum Arabic
: Substance used to glue things. Item needed: Tree Resin.
Oil of Vitrol
: : Black substance used to boil and evaporate large quantities of water. Items need: Blue and Green Vitrol.
Spirit of Salt
: Substance used to add an incredible and delicious flavor to food. Items needed: Salt and Oil of Vitrol
Healing Tincture
: Potion used to heal physical injuries. Items needed: Red Herbs, Fresh Water and Blood.
Panacea
: Potion used to cure poison. Item need: Yellow Herbs and Fresh Water.