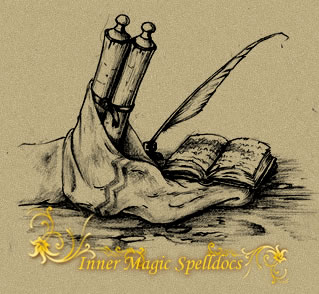 Wind Ward
~ Technique description, Part 1 ~
In the centre of a vortex, a shape constituted of two perpendicular planes intersected through their centers. The shape is complete when it expands to the outer limits of the vortex's axis. The shape is to be formed on the vertical axis and it moves along with the base of the vortex. As time passes the shape becomes more defined, and its movement takes the movement of the vortex, the four planes managing to disrupt the continuity of the vortex. The process resembels a spiral being shattered by an equal-sided cross. This is used to stop small whirlwinds or even twisters and to ward against the wind, be it made by man, nature or symbol.
------- end of fragment -------
This is just a fragment of one of the innermagic spell documents, collactable in MagicDuel. Each spells expands over several levels of complexity, each of them releasing a bit of information about how that spell works. The levels spread from general information to highly valuable secrets. There are no rituals, spell words, enchantments and such. All is kept at a tehnical level, in the spirit of MagicDuel, if you are searching for wicca or wizardry material we recommand you google it or read fiction or folclore literature of that kind.
For a sample of how such a spell could expand, check out this sample: Timeless Shot Spell
Read more about Principles of Magic